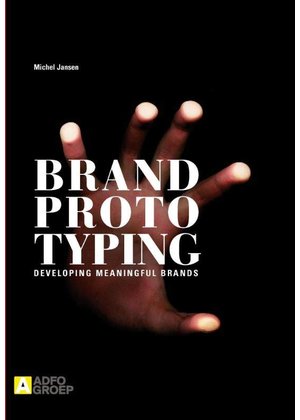 Binnen 2 werkdagen bezorgd
| | |
| --- | --- |
| ISBN: | 9789491560248 |
| Taal: | English |
| Verschijningsvorm: | Boek |
| Aantal bladzijden: | 98 |
| Verschijningsdatum: | 2012 |
| Druk: | 1e |
Geen info
This book presents a unique method that enables the brand to create a strong identity and to develop a meaningful relationship with the consumer.

This Brand Prototyping Process is derived from the Jungian archetypes, because these provide a framework that guides the building of a brand in an individual, consistent and consequent way. By virtue of their timeless and universal nature, they offer the ability to create a link between the static and dynamic brand identity.

The Brand Prototyping Process is the first concept that can offer concrete tools for relevant renewal within the identity such that the relationship remains meaningful and the brand is seen as vital and dynamic. Thus the Brand Prototyping Process offers a solution to the paradox that faces every brand: the need to stay the same by continually adapting!
| | |
| --- | --- |
| Auteurs: | |
| Verkooppositie: | |
| Taal: | English |
| Verschijningsvorm: | Boek |
| Aantal bladzijden: | 98 |
| Verschijningsdatum: | 2012 |
| Druk: | 1e |
tedt
14-01-2015 09:35
goed boek
4
sterren gebaseerd op
1
beoordelingen