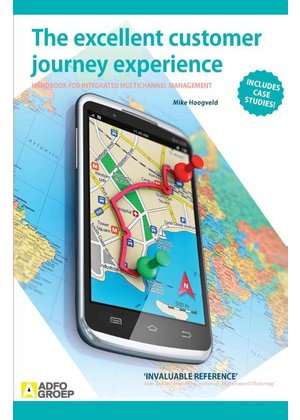 The excellent customer journey experience
Binnen 2 werkdagen bezorgd
| | |
| --- | --- |
| ISBN: | 9789491560613 |
| Taal: | Engels |
| Verschijningsvorm: | Boek |
| Aantal bladzijden: | 320 |
| Verschijningsdatum: | 2014 |
| Druk: | 1e |
Geen info
It continues to get tougher for executives in marketing, sales and service. Their departments refuse to cooperate with one another while the market is changing rapidly. The number of channels for communication and distribution continues to increase due to the on-going advances in digitalisation. Customers and prospects use increasing numbers of these channels in all imaginable combinations during their orientation, purchase and use process. Furthermore, unexpected competitors, who are masters at the channel game, are entering the market.
The only solution is to implement an integrated omnichannel operation whereby the strategy, structures, processes and systems are seamlessly aligned. For most organisations this presents an enormous challenge.
'The Excellent Customer Journey Experience' describes in a practical way how an omnichannel approach can be optimally implemented and managed. The method is based on scientific research supplemented by years of experience of the hard reality of marketing and sales practice.
A must-read book for every director, executive and specialist in marketing, sales and service who wants to achieve a breakthrough to maximum ROI.
| | |
| --- | --- |
| Auteurs: | |
| Verkooppositie: | |
| Taal: | Engels |
| Verschijningsvorm: | Boek |
| Aantal bladzijden: | 320 |
| Verschijningsdatum: | 2014 |
| Druk: | 1e |
Voor dit boek zijn nog geen reviews